Carol Lloyd
---
I was born in Watford, Hertfordshire and went out to East Africa at an early age with my parents and sister, where I spent very many happy years. We had the privilege of living in all three of the countries as my Father was employed by East African Railways and Harbours. My husband Tom and I were married in 1972 in an idyllic situation facing Mt. Kenya. As a farm manager's wife my life was always full and varied on which ever farm we lived be it Ranch, Dairy or Tea.
I was a Branch Chairperson of a Womens' Group who assists children and adults, many of whom were physically and/or mentally challenged. I have a wealth of memories of smiling faces and joyful voices.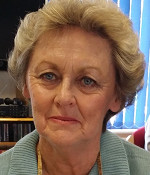 We as a family have heartfelt experience and knowledge of dementia, as my late Father was diagnosed with Alzheimer's. After his death, my frail Mother who had stoically fought Cancer three times and had very little sight returned to Kenya to live with us. We had nine wonderful years together.
I have always had a strong, affinity with Senior Citizens and so enjoy, immensely being a volunteer at Kyrebrook Day Centre which I know is an oasis for so many people.