Hilary Lincoln
---
I was born and brought up in a small town in South Wales, leaving at the age of eighteen to study for a degree in Life sciences in London. My first career position was as a Medical Laboratory Scientific Officer in Haematology in a South London hospital. As often happens, life took a different direction when I gave birth to my son Thomas and my husband's career saw us move several times around the country.
This change gave me the opportunity to set myself new challenges, studying for and obtaining a post graduate degree in education. I started as a teacher of Science and progressed to a leadership role centred around the progression of students and staff alike. I thoroughly enjoyed my job as it was working with and helping people to progress in life.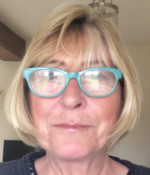 The year 2010 saw David and myself escape the rat race and move to Tenbury wells, unfortunately at the same time my Father was diagnosed with Dementia. The personal journey that I made to find the right level of good care for him gave me an understanding of many aspects of this condition and I wanted to do more.
This led me to apply for and start as a volunteer at Kyrebrook in 2016. I love being with the clients, be it participating in fun activities, going out or just simply chatting. I was thrilled to be asked to be a director and look forward to contributing to the future of the centre. I am also so proud to be part of a team that does such good work in the community.