Ria Baxter
---
I was born in Liverpool, and the politically correct term for my background is mixed heritage! My Mum was Dutch and my Dad was Chinese. I left Liverpool when I was 18 and married Phil, and we've been very happily married for over 37 years.
I enjoyed a 14 year career with the Post Office, including my proudest achievement of youngest female UK Branch Manager, aged 22, of Windsor Post Office, one of the PO's flagship Branch offices. I left a senior management role, and decided to retrain in Complementary Health. I gained qualifications in Anatomy & Physiology, Reflexology, Aromatherapy, Swedish and Shiatsu Massage. I then trained as a Counsellor and Business Coach, and a Personal Fitness Trainer, which included teaching exercise for the elderly, nutrition, and health and fitness assessments. I ran a successful complementary health business for five years in Berkshire, before relocating to Tenbury Wells in 1999.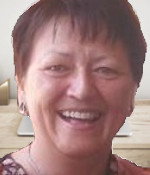 In 2008 it became apparent that my mum was suffering signs of Alzheimer's Disease. Her mother had also suffered from the wicked disease for many years, and we both knew what to expect. Mum was also registered blind, living with AMD (Advanced Macular Degeneration) and Glaucoma. I moved her from Liverpool to sheltered accommodation nearby, and armed with a Personal Budget, which was quite revolutionary in those days, I employed two Personal Assistants, and between us we looked after mum until she died in December 2011. During her illness, I armed myself with a great deal of insight into dementia, AMD and glaucoma. I am a very strong believer in ensuring that dignity and choice are at the forefront of looking after the elderly and vulnerable.
I thoroughly love working with the elderly, and was a volunteer car driver with Tenbury Transport Trust, as well as being qualified to drive the community bus for over 9 years. I was also a volunteer 'Information and Advice' Advisor with Age UK, as I feel it is vital to ensure that vulnerable people have a voice and that they get the right information to make informed choices to improve their lives, especially those who have no relatives to help them through the daunting process. I am also a Dementia Friends Champion for the Alzheimer's Society, spreading the word about dementia to encourage more dementia friendly communities.
My role with Kyrebrook Daycare Centre is to ensure that we have the right policies and procedures in place, and that we work closely with other support organisations in Tenbury and the surrounding counties, so that we can offer the best day care services to our clients. As a Community Interest Company, we are a not for profit social enterprise, and we hope to help as many people as we can, regardless of age or ability, in Tenbury and the surrounding areas.